Alumni: Salamanca Native, Bartoszek to Play for Team USA in Rotary Gridiron Classic on Saturday
Former University at Buffalo tight end Chad Bartoszek (Salamanca, NY/Salamanca) will play for Team USA in the Fifth Annual Rotary Gridiron Classic College All-Star game this Saturday at the Citrus Bowl in Orlando.
The game will be televised nationally on ESPN2 at 2 pm and will feature senior football players that hail from the state of Florida (Team Florida) versus the rest of the nation (Team USA). Maryland head coach Ralph Friedgen and former Boston College head coach Jack Bicknell are co-coaches of Team USA while Central Florida head coach Mike Kruczek and Peter Vaas, head coach of the Berlin Thunder in NFL Europe, will co-coach Team Florida.
Bartoszek arrived in Orlando late Sunday night and is undergoing five practices this week (three in full pads) in preparation for the game. The two-time All Mid-American Conference selection is joined on Team USA by Western Michigan's Mobolaji Afariogun, another All-MAC selection, giving the tight end spot a distinctive MAC feel.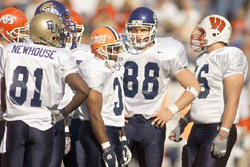 "He and I are rooming together and it's been nice to have someone who I'm familiar with," said Bartoszek. "We're the only tight ends on the team, so I know we're going to play a lot. The plan right now is for us to alternate every series."
Bartoszek, who was among the nation's most productive tight ends his final two seasons with 88 receptions, said he is getting used to the competition.
"I was really nervous when I first got here," Bartoszek said. "You come up to the line of scrimmage and everyone has different helmets on - Notre Dame, Clemson, Oklahoma. It was a little intimidating, but I think I've held my own. The difference between the big schools and schools like us is not as much as you'd think. Physically you can see only a slight difference, but technique-wise the guys are all great. You get a little taste of it in our season (the best competition), but here it's every play."
Bartoszek will be thrown to by quarterbacks Nate Hybl (Oklahoma) and Brooks Bollinger (Wisconsin).
"It's definitely exciting," Bartoszek said. "When I walked out on the field the first day I was definitely a little nervous, but after the first couple of hits it was just football again."
Team Florida will be quarterbacked by Heisman Trophy runner-up Brad Banks. The game is the official all-star game of the NFL Player's Association and Bartoszek noted the opportunities that presents.
"At the practices there are tons of scouts, so it's definitely a great chance to showcase your skills," he said.
Bartoszek is the first Buffalo player to participate in a senior-oriented all-star game since Gerry Philbin played in the 1964 North-South and Coaches All-America post-season games before being drafted by the New York Jets.
http://www.ubathletics.buffalo.edu/football/news/ftb01-21-2003-bartallstar.shtml
Olean Times Herald - Bartoszek Set to Make His Mark at Gridiron Classic
Jan. 22, 2003
ORLANDO, Fla. - The University at BuffaloÞs season ended in the fall, but senior tight end Chad Bartoszek has one more football game on his schedule.
While Western New York residents dealt with cold weather and snow this week, Bartoszek and his Team USA teammates were in Orlando practicing for Saturday's Rotary Gridiron Classic. The game will pit Team USA, which includes standout seniors from around the country, against Team Florida, made up of talented seniors from that state. Kickoff will be at 2 p.m. and the game will be televised on ESPN2.
Bartoszek and the others will try to impress an audience which includes NFL scouts. Along with practices, their schedules have included scouting evaluations, meetings and tests.
"I was really nervous the first day and after you get into practice it just feels like football," said the 1999 Salamanca Central School graduate. "On Monday I think a lot of guys were nervous."
Bartoszek said things have been going fairly well this week.
"I've done better than I thought I would," he said. "I finished today (Wednesday) with a good practice, so hopefully I can play well in the game and have some good catches."
Bartoszek won't have to worry about playing time come Saturday afternoon.
"Each team has only got two tight ends," he said. It's definitely a lot of exposure. The practices have had over 50 scouts, it seems."
Bartoszek said Andrew Dees, tight ends coach at UB, played in a couple of Rotary Gridiron Classic contests. Bartoszek said Dees told him to be aggressive and to not hold anything back.
Dees has been coaching with the Bulls for two years. During that time, Bartoszek caught 87 passes. In the fall of 2002, he finished second on the team with 45 receptions for 350 yards.
Dees said, "I would say he's among the top 10 tight ends in the country. I wouldn't say he's No. 1 and I wouldn't say he's No. 10.
"He runs very well," Dees said. "I think he's the most natural catcher of the ball. He catches it effortlessly, no matter where it is."
Dees said the 6-6, 250-pound Bartoszek has worked on his blocking while with the Bulls and must continue to do so.
Doug Socha, receivers coach at UB, said Bartoszek has been preparing for this since the end of the Bulls' season.
"I know he worked hard from the minute our season ended because he knew he would have a chance to be in this," Socha said. "I just know Chad's a hard worker. He never had a so-called break"
Socha said he did not directly work with Bartoszek. He did say that the senior would frequently see double coverage, which benefited other receivers. Bartoszek and teammate Andre Forde would feed off each other in this way.
"If you doubled up on Andre, it gave Chad the chance to beat a linebacker or a safety one-on-one," Socha said.
Bartoszek said there will be roughly 15 family members and friends there to support him Saturday, including parents John and Christine. He said he wanted to thank them for their support during UB games.
Another person Bartoszek wished to thank was Salamanca football coach Rich Morton, an assistant coach when he played for the Warriors.
"I've talked to him once this year," Bartoszek said. "I saw him this past fall when I went to see my mom. He always has tried to be really supportive."
http://www.oleantimesherald.com/archives/bartoszek-set-to-make-his-mark-at-gridiron-classic/article_931efe64-c507-5a6e-8c82-08d8d34f9632.html